ZW32-12 outdoor vacuum circuit breaker (hereinafter referred to as circuit breaker) is an outdoor power distribution equipment with rated voltage of 12KV and three-phase AC 50Hz. It is mainly used to break and close the load current, overload current and short circuit current in the power system. It is suitable for protection and control in substation and industrial and mining enterprise substation systems, and places where rural power grids operate frequently.
ZW32-12 series outdoor AC high-voltage vacuum circuit breakers comply with GB 1984 "AC high-voltage circuit breakers" and the International Electrotechnical Commission IEC 60056 "high-voltage AC circuit breakers" and other standards.
The circuit breaker has the characteristics of small size, light weight, anti-condensation and maintenance-free, and can adapt to harsh weather conditions and dirty environments.
1. The circuit breaker adopts a three-phase strut structure, which has the characteristics of breaking performance, no combustion and explosion hazards, maintenance-free, small size, light weight and long service life.
2. The circuit breaker adopts a fully enclosed structure with good sealing performance, which helps to improve the performance of moisture-proof and anti-condensation, and is especially suitable for use in cold or humid areas.
3. Three-phase pillars and current transformers use imported outdoor epoxy resin solid insulation, or use domestic epoxy resin outsourcing silicone rubber solid insulation; it has the characteristics of high and low temperature resistance, ultraviolet resistance, and aging resistance.
4. The operating mechanism adopts a miniaturized spring operating mechanism, the power of the energy storage motor is small, and the energy consumption of opening and closing is low; the mechanism transmission adopts the direct transmission mode, the number of parts is small, and the reliability is high. The operating mechanism is placed in a sealed mechanism box, which solves the problem of corrosion of the operating mechanism and improves the reliability of the mechanism.
5. The opening and closing operation of the circuit breaker can be operated manually or electrically and by remote control. It can be matched with intelligent controller to realize power distribution automation, and can also be combined with recloser to form automatic recloser and sectionalizer.
6. The circuit breaker can be equipped with two-phase or three-phase current transformers for over-current or short-circuit protection, and can also provide current acquisition signals to the intelligent controller; current transformers for metering can be added according to user requirements.
7. The circuit breaker can be equipped with a three-phase linkage isolating switch, and there is a visible fracture when the isolating switch is open, and it is equipped with an anti-mistake interlocking device with the circuit breaker body. When the circuit breaker is in the closing position, the isolation switch cannot be opened or closed; the circuit breaker can only be operated when the isolation knife is fully closed or fully opened. Arrester pillar insulators can be connected together for easy maintenance.
ZW32 Auto recloser Structure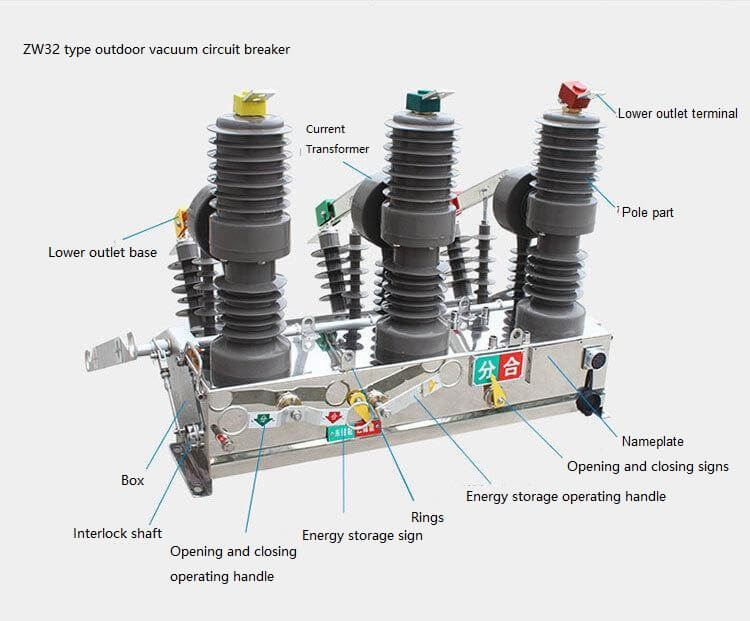 1.  Ambient air temperature: -40℃~+40℃;
2. Altitude: no more than 2000m;
3. The surrounding air can be polluted by dust, smoke, corrosive gas, steam or salt spray;
4. The wind speed does not exceed 34m/s (equivalent to 700Pa on the cylindrical surface);
5. Vibration or ground motion from switchgear and control equipment can be ignored;
6. Pollution level: Ⅲ
Application