GN19-12, 12C series indoor high-voltage disconnect switches (hereinafter referred to as disconnect switches) are indoor devices with a rated voltage of 12kV, three-phase AC 60Hz, and are used for dividing and closing circuits when there is voltage and no load.
This series of isolation switch is three-pole type, consisting of base frame, rotating shaft, and lever, porcelain pillar insulator, gate knife and connection board. The rotating shaft is placed on the base frame, on which three pairs of levers are welded, and the levers are necked with the gate knife through the pull rod porcelain insulator. The shaft extends out of the bottom frame, and any section of it can be connected with the operating mechanism.
Model Meaning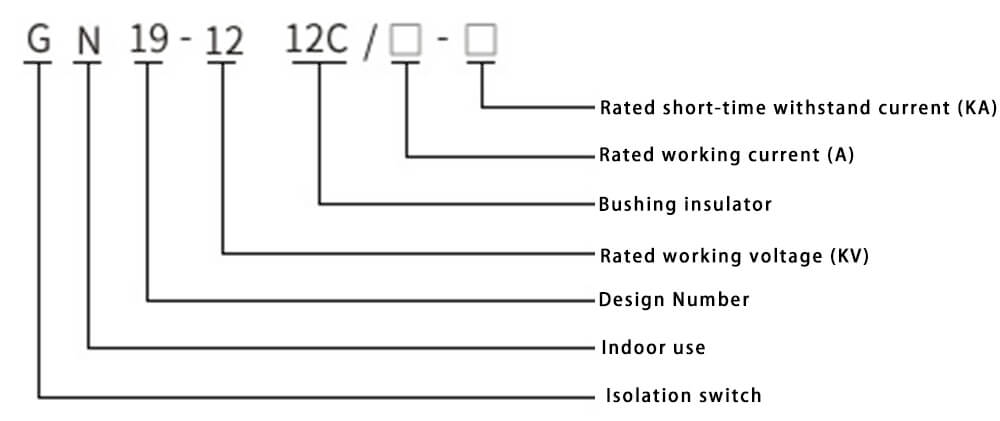 The conductive part of GN19-12/400, 630, 1000, 1250 type disconnect switch is fixed on the base by two pillar insulators for each phase. (GN19-12C/400, 630, 1000, 1250 type has one pillar insulator and one porcelain casing insulator.) The three phases are installed in parallel, and the conductive part consists of static contacts of contact knives and contact holders (or conductive rods). Each phase of the contact knife are connected to the middle of the tie insulator, tie insulator and installed on the base of the spindle connected. The spindle is connected to the connecting rod (user-provided) and CS6-1 type of moving mechanism through the handle. The connecting contact knife is composed of two slotted copper plates, which not only increases the heat dissipation area of the contact knife to lower the bottom temperature, but also improves the mechanical strength of the contact knife, so that the dynamic stability of the switch is improved. One end of the contact knife is mounted on the contact block (or on the conductive rod) by a bolt (car of Shaw). GN19-12/1000, 1250 in contact with the installation of magnetic locking plate, plus the purpose of the magnetic locking plate is that when a large short-circuit current to enhance the two groove contact knife between the| attraction. GN19-12/400, 630 disconnect switches have a small limit through current, so there is no need to add a magnetic locking plate.
1. The upper limit of ambient temperature +40℃, the lower limit -l0℃, Note: Allow storage and transportation at -25℃
2. Altitude not more than 1000m
3. Relative humidity: daily average is not more than 95%, monthly average is not more than 90%
4. Water vapor pressure: the daily average is not more than 2.2 × 10-3Mpa, the monthly average is not more than 1.8 × 10-3Mpa
5. The surrounding air should be free from corrosive or combustible gases, water vapor and other obvious pollution.
6. No regular and violent vibration.
Note: Please consult with the manufacturer to solve the problem if it is not in line with the above conditions