FZN21-12D/T630-20 indoor AC high voltage Load break switch FZN21-12D/T630-20 indoor high voltage vacuum Load break switch, suitable for powersupply network with rated voltage of 10kV three-phase AC 50Hz, used for breaking load current .
FZRN21-12D/T125-31.5 indoor high voltage vacuum Load break switch-fuse combination electrical appliance has large breaking capacity, safety and reliability, andlong electrical life, it can be operated frequently, the structure is compact, the volume is small, the weight is light, and the maintenance is basically unncessary. It can protect the transformer from overload and prevent the equipment from running out of phase. It has obvious isolation fracture. It can be equipped with grounding knife and electric spring mechanism with closing ability, and it can be remotely controlled.
FZN21-12 series high-voltage vacuum load switch is mainly composed of framer, disconnecting switch (current-limiting fuse of the combiner is in the disconnecting switch), vacuum switching tube, grounding switch, spring operating mechanism and so on.
This product has compact structure, small volume, long life, strong closing and breaking capacity, and easy operation and maintenance. The vacuum switch is equipped with a spring-operated mechanism, which adopts an electric motor (another manual) spring energy storage, and there are two types of closing methods: electromagnet closing and manual splitting and closing. The disconnecting switch, vacuum switch and earthing switch are interlocked with each other (mechanical interlocking) to prevent misoperation.
Model meaning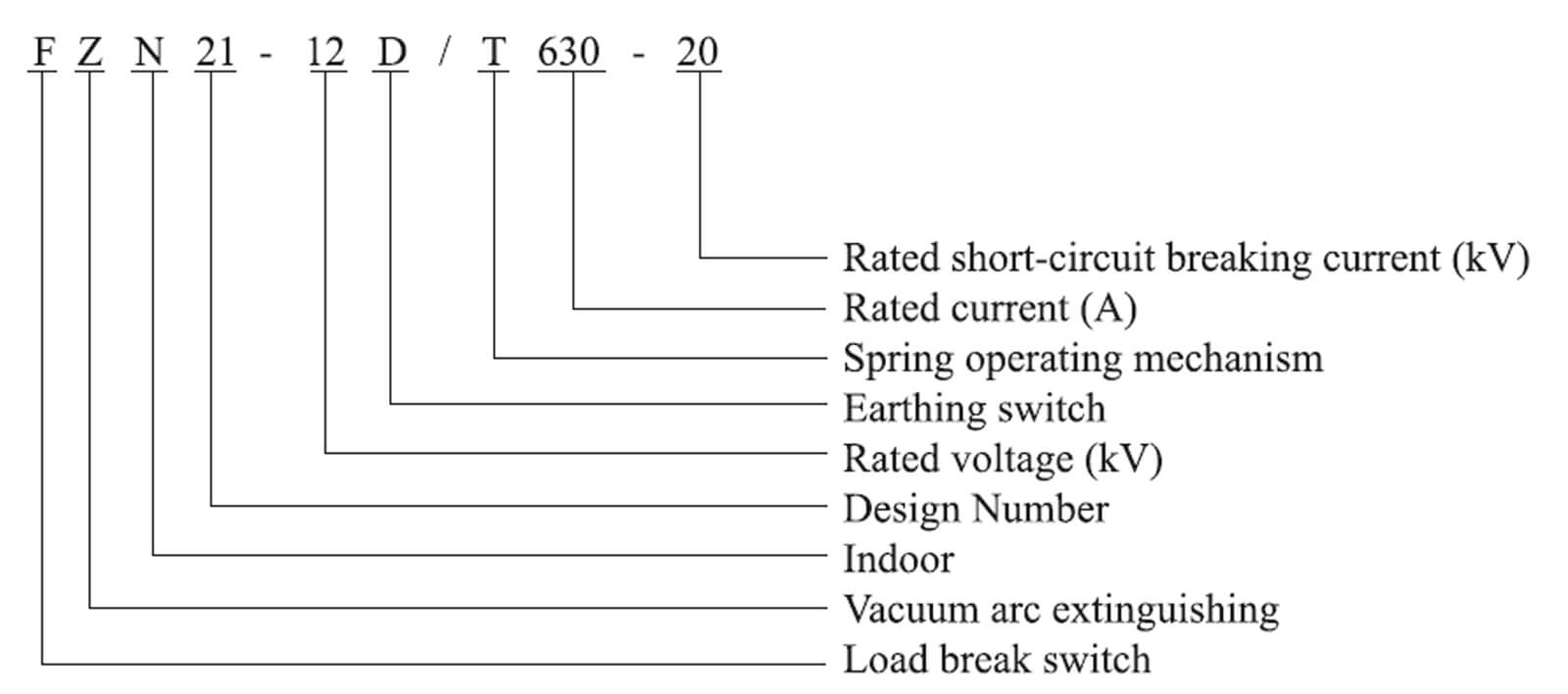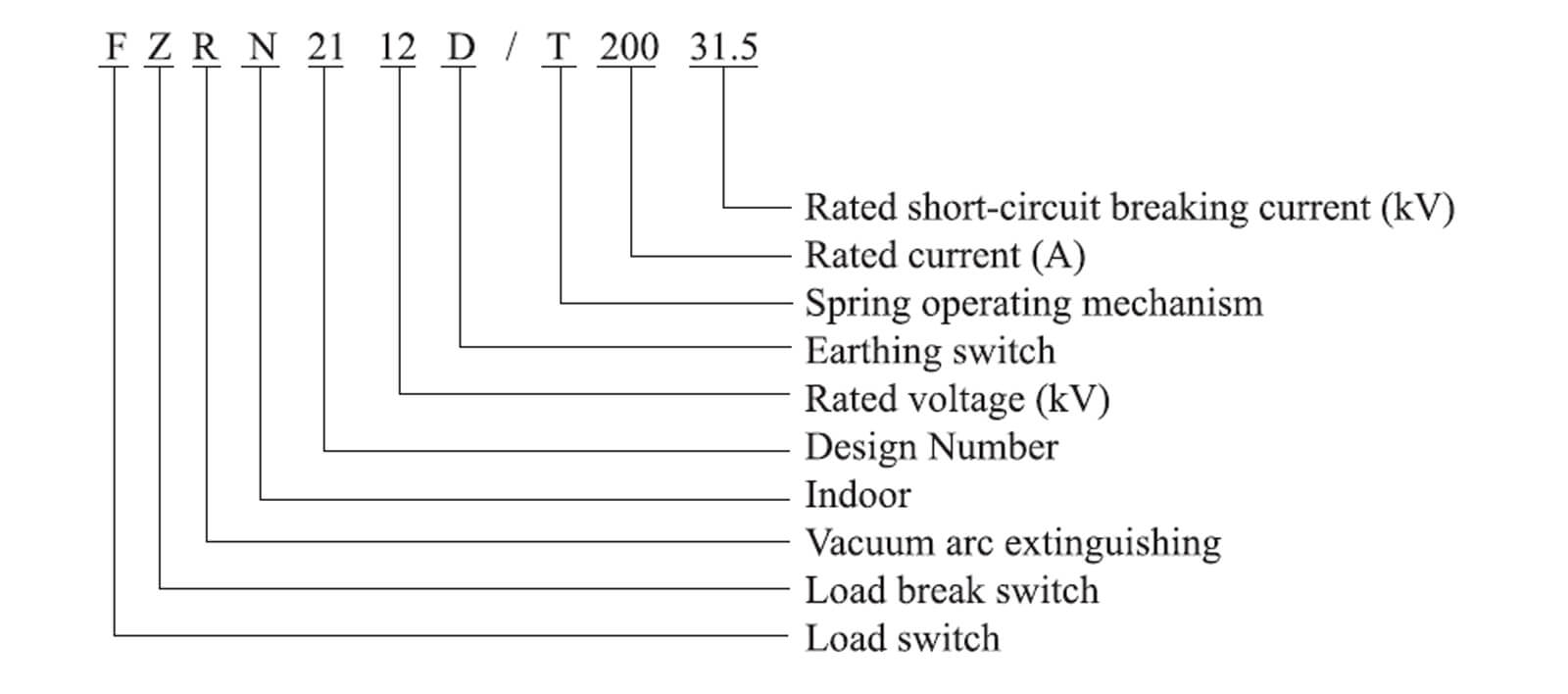 Outline and installation dimensions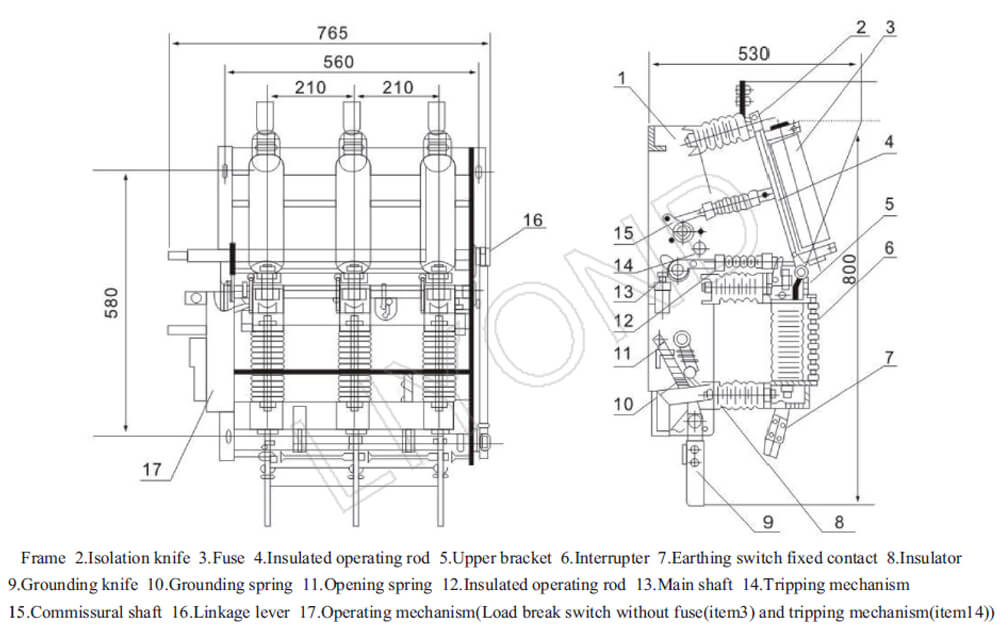 1. The surrounding air temperature does not exceed 40 ℃, and the average plant measured in 24h does not exceed 35 ℃, the lowest surrounding air temperature is -25℃;
2. The effect of sunlight radiation can be ignored;
3. The altitude does not exceed 2000m;
4. No conductive dust, corrosive gases and water vapor places;
5. No fire, explosion hazardous places;.
6. Places without frequent and violent vibration.